Keep your data secure and compliant.
Deep in the information age, we generate 2.5 quintillion bytes of data every day, about 1.6 MB per second, per person on the planet. Put to work, that information drives business strategy and sparks remarkable innovation.
At the same time, endless data breaches spell disaster for organizations and for many whose information is lost to hackers. Likewise, vast quantities of data that could power analytics remain unused
because businesses lack the resources to retrieve the information efficiently.
Organizations that understand both the risks of poorly managed data and the benefits of effective information governance seek to manage data assets in a way that keeps sensitive information safe
while unlocking the benefits of big data.
What is Information Governance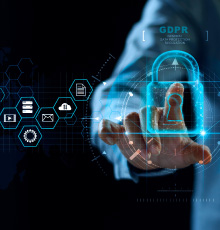 Information governance incorporates basic common sense. Know where your data is and who owns it. Implement multi-layer security to keep information safe. And plan for data end of life.
For many industries, an important result of information governance is data compliance. HIPAA and GDPR regulations set strict rules to protect personal information, invoking stiff penalties for organizations that fail to comply.
Organizations following best practices of information governance can easily demonstrate regulatory compliance.
Information governance forms the umbrella strategy that covers all your organizational data, including:
Benefits of
Information Governance
Information governance helps keep data secure while making it accessible. Information Governance solutions aid compliance and strategy, reduce risk and save time. The benefits of properly managed data impact the entire organization.
When businesses organize and manage data efficiently, they significantly mitigate the risk of suffering a data breach. Proper access controls, effective employee training and ongoing data monitoring all help to reduce vulnerabilities and keep information safe from attack.
With data properly organized, companies can easily prepare the information necessary for eDiscovery. Quick response to eDiscovery requests saves time and money and gives the organization the upper hand in negotiations.
The usefulness of data determines its value. Once you have properly categorized information, you can harness data analytics to drive innovation and inform operational strategy.
Implementing a comprehensive information governance strategy drives a boatload of business benefits, including:
Information Governance Strategy
Information governance may feel like an enormous task. To conquer those terabytes of data, start simply
and build your strategy one piece at a time.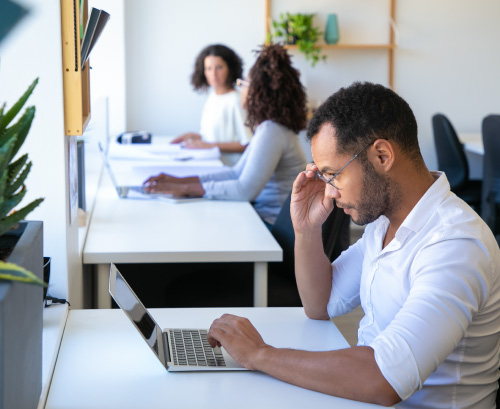 The first step in taking control of your data is to conduct a comprehensive data audit. Learn what data you have and where it resides, both on premises and in the cloud.
In addition to an initial data audit, implement software and processes to ensure that you have on-going visibility of your sensitive data moving forward.
Organize Data for Efficient Access
Improve efficiency by cleaning up the data. Within regulations, remove or archive information that is redundant or irrelevant. Archiving solutions allow you to retain data in a format that is easily searchable.
At the same time, archiving frees up primary storage space. 
Make sure that strategic business information is organized into appropriate business categories such as invoices and customer correspondence. Tag information according to its value to the organization
and whether it is subject to regulatory requirements.
While proper storage, archiving and eDiscovery solutions allow you to access and secure information once it resides in your system, gateway solutions provide proactive protection, allowing you to monitor data as it enters and leaves the organization.
Establish a Retention Policy
Know the regulations for your industry and set your retention policy accordingly. Where possible, automate deletion and archival of outdated information. Do not keep data longer than necessary.
Effective information governance involves all employees. Include instruction on electronic document policies at regular intervals and during onboarding. The success of your program depends on employees that know and comply with policies.
Get Executive Sponsorship
It's much easier to build engagement throughout the organization when top management is fully committed to the process of information governance.
Tap into Existing Expertise
Our team of experts brings decades of experience in effective Information Governance consulting and solutions.
Contact us today to explore solutions and to begin developing comprehensive strategies for data and
records management and information security.
Information Governance Solutions
Data and Records Management Consulting
We approach managing your data with a structured and comprehensive plan that will reduce your organization's unstructured data and risk.
Through multiple steps we can identify, control, and finally position your organization to regulate and control data.
Data Compliance Monitoring
Many organizations find it extremely difficult to handle the verbose and evolving landscape of regulations and compliance.
Don't bog down your team with the heavy burden and hire one of our experts instead! With over 15 years in business, our team of consultants know exactly how to keep your compliant and fine free.
Data storage and access has evolved as have the methods for accessing and sharing information.   Our team of experienced consultants have participated in the evolution from closed data storage systems to cloud based systems where the ease and potential dangers of information sharing can compromise an organization.   Let our experts analyze and identify potential risks.
Gain visibility into your emails, file shares, voicemails and more with our premier eDiscovery tool. Connect all your unstructured data to the right place with proper storage and easy visibility to the people that need it. Approach your eDiscovery projects with optimization and peace of mind with our experts.
As of May 2018, GDPR is in effect and with that comes enhanced data privacy regulations for businesses using personal data of European residents—or face heavy fines. We can take your organization through the complicated steps of assessing and complying to these regulations with expert solutions.